School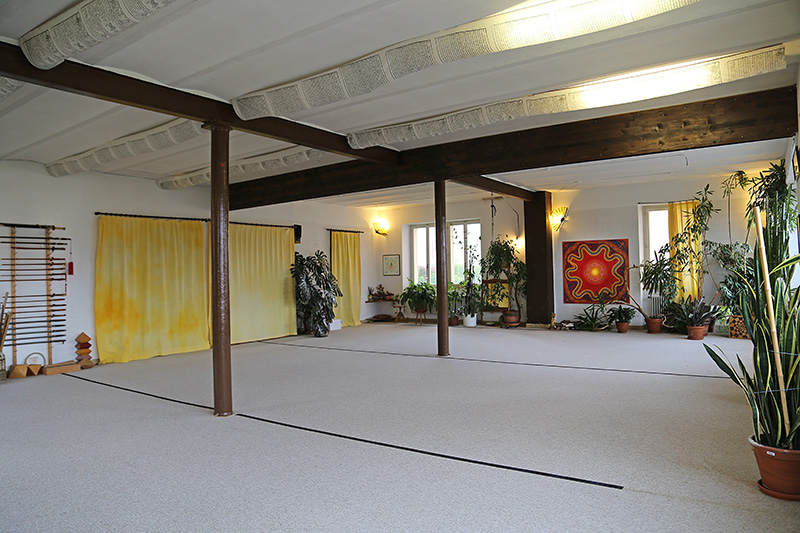 old Wuguan La Chaux-de-Fonds (photo Loni Liebermann)
Aim and function of our school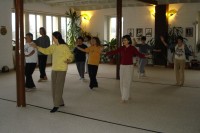 Seven out of the nine weekly classes are split level and two courses are reserved for advanced students only.

Our school functions by membership. Members pay a monthly fee and have free access to all classes . This system allows players to train more or less intensively according to their own needs and disponibilities. Each person takes responsibility for their own progress. The school provides a pleasant setting with all convienences, dedicated guidance and extends its welcome to people of all ages and walks of life. The split level classes encourage a friendly exchange between old and new members. It allows the beginners to see where they are heading to, and the old members to re-examine their practice all the time. We have participants between the ages of eighteen and eighty-two, women and men, practicing together. This mirrors our school's aim in Tai-Chi Chuan, which is self-cultivation with respect and compassion to all.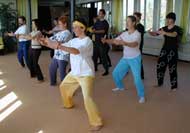 .
All serious players are welcome to exchange with us. So next time you are in our neighborhood, please, do visit our school.
.
.
Genealogy of the school
Li King Lin

Founder of Wu Dang System
"Magic Sword Li"
Fu family
Li family
Fu Chin Shung

Founder of Fu Style Tai Chi
and Pa Kua Dragon Palm
Li Yu Lin
Fu Wing Fay

Vice President Guangdong Wushu Association
Li Tian Ji
Secretary General of National Wushu Department Developed Combined Tai Chi Chuan and Simplified Tai Chi Chuan
Bow Sim Mark
Teachers and instructors
Cornelia studied Tai-Chi Chuan since 1971 with the Masters Bow Sim Mark, W.C.C.Chen, John Chung Li and T.T. Liang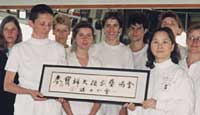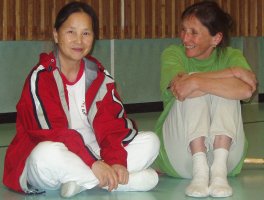 Cornelia Gruber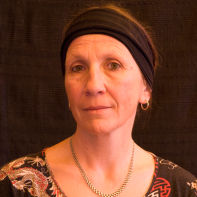 I was born in the German part of Switzerland in the year of the dragon. Later I lived in the USA for seven years where I fell madly in love with the art of Tai-Chi Chuan. I took up studies of Tai-Chi Chuan at the age of 18 in chinatown, Boston, my first teachers being John Chung Li, T.T. Liang, William C.C.Chen.
Thereafter I became a student of Bow Sim Mark who's school's lineage I am currently carrying on in my own Tai-Chi schools of Neuchâtel and La Chaux-de-Fonds in Switzerland, where I live with my family.
I like to express my everlasting gratitude to my teachers who guided me on this wonderful path.
I am a member of SGQT (professional association of Taijiquan and Qi Gong of Switzerland) and the TCFE (Taijiquan and Qi Gong Federation for Europe). I regularly teach workshops in Switzerland and Europe.
---
Instructors
 

Dominique Gumy

I came to Tai Chi Chuan in 2010 with the idea of relearning to listen better to my body, to give it a fairer place and to strive towards body-mind harmony.
I found this and much more: more inner calm, balance on all levels, rooting, the pleasure of martiality, playing with others...
It has become a philosophy, an art of living my life today. Everyone can find in Tai Chi Chuan one or more rewarding aspects for their own lives.
Being able to accompany on this path is a real treasure and allows me to remain "alert".
Thanks to Cornelia, our Sifu, for the generosity of her teaching...

 
 

 Jean-Pierre Schorpp

I discovered Tai-Chi Chuan in 1993 and ever since I am studing and refining my technique. I am always looking for the precision in the circular movements by concentrating on working with the center.

Tai-Chi Chuan gives me a different approach to my day to day living as well as a certain philosophy. I am grateful for all these riches and also to Cornelia who is my guide on this path.

 

Anne Gisep

 Tai-Chi is not just a kind of gymnastics for keeping in shape. Tai-Chi is teaching me patience, perseverance, humility and concentration.

Tai-Chi is improving my balance and body conscience.

Tai-Chi is helping me to be stronger in everyday life.

It is an existential approach, a philosophy of life.

 

 

Thierry Gumy

 Because nothing lasts forever, nothing is the same forever....

After Aikido..... Tai-Chi Chuan....

A first approach of a magnificient path of perpetuel discovery where roots, Qi and balance meet.

I dare you to take a first step and let yourself be surprised!!

Heartfelt thanks to Cornelia who is making us discover all these riches.

 
 

Chantal Kolly

 In 2006, I began Tai-Chi.

I persevered in learning of the form.

Exciting discovery, Tai-Chi brings me appeasement and enrichment.

It is useful in the gestures of every day.

This practice is a road without end.

 
 

Katia Biloni

The discovery of Tai-chi Chuan in 2002 led me to Qigong, but today I cannot do without either one of them - the two feeding each other. The physical, mental and spiritual planes are affected by these practices. This is a Way ... In my experience, these arts allow us to let emanate strength, beauty and serenity that are in us. For 4 years (2015-2019), I had the confidence of Cornelia and the privilege of teaching Qi Gong in her Tai-chi Chuan school. A big thank you to her! I now live in France and I have my own room for my classes, in La Grange à outeaux course center, where I would be happy to welcome you for a course or an internship. Looking forward to meeting you!

Contact: +33 7 81 09 51 94 or +41 76 481 43 27
www.grangeaouteaux.com 
qigongkatia@gmail.com

 

Elba Chevalley

I practice Tai-Chi Chuan since 1999 with Cornelia Gruber. Many thanks to her for initiating me into the art of Tai-Chi Chuan and giving me the chance to deepen my understanding of its techniques.

I have participated in different workshops of other teachers from Switzerland and other countries during the meetings and workshops organized by Cornelia.

I love the sea. Every year I spend the summer in Mojàcar, Spain and practice at the beach of " La Sierra Cabrera". If you would like to join my classes, I am there for you.

 
 
 

Nathalie Quartier

 

 

Almost 15 years of tai chi practice behind me and always the same pleasure to repeat endlessly the same gestures,to discover new sensations and new subtleties, to enter the infinitely small to realize the infinitely large. Over time, tai chi has become the common thread around which my life is wound. I created and run a qi gongclub on my workplace. We meet regularly to practice during the lunch break. I also teach qigong in an adult education center.
---
© Tai-Chi Chuan Cornelia 2006-2023